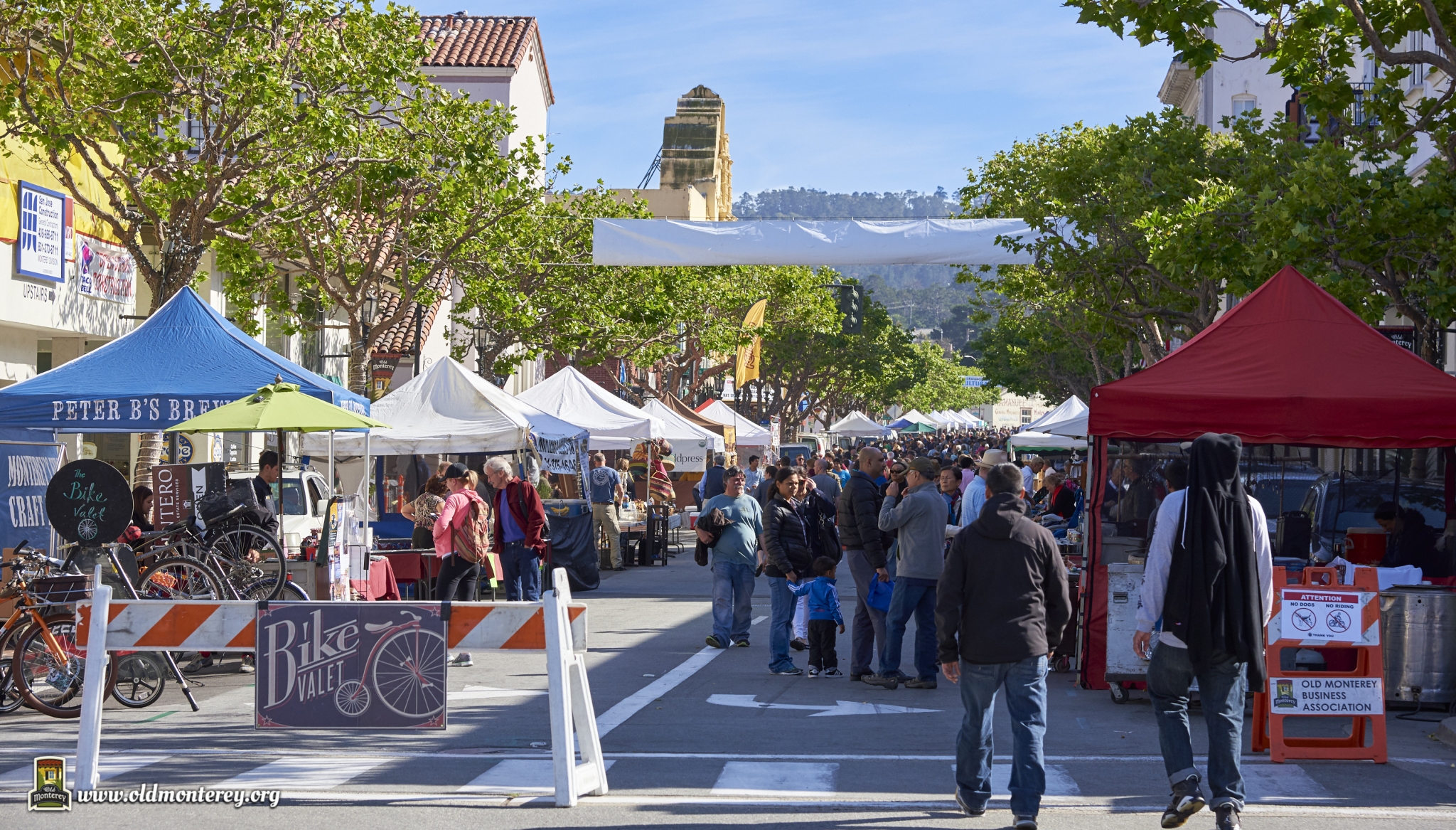 The Old Monterey Marketplace and Farmers Market is held year round on Alvarado Street every Tuesday, 4pm-7pm.
About the Farmers Market
The Old Monterey Farmers Market, established in 1991, comprises of 3 ½ city blocks and runs year-round rain or shine. You can travel the world in just three blocks, finding arts and crafts, handmade jewelry, furniture, clothing, international food, organic produce, flowers, and pastries.
Our produce vendors come from all over California, from Salinas and Watsonville, to Fresno and Sacramento, selling Certified and Organic Certified produce.
Arts and crafts vendors come from around the world, selling treasures from Africa, Colombia, Mexico, Russia, Japan, China, and Yugoslavia, just to name a few.
Our food vendors also serve up delicacies that are as international as our products serving up Indian, Japanese, Korean, Mexican, Mediterranean, and BBQ delicacies. In our Baker's Alley you can find fresh pastries like baklava, European breads, cookies, muffins, pies, and cakes.
In addition to the products and food we offer, the Old Monterey Farmers Market also includes a variety of community events. Sometimes you can adopt a dog from the SPCA, register to vote, and enjoy live music from local musicians. During the holidays you can listen to carolers, as they're dressed in costume straight out of a Dickens novel.
While the Marketplace provides a plethora of food, produce, arts & crafts, and community services, it is most importantly a cultural focal point of Monterey. As the largest congregation of locals year round, the Farmers Market offers a place for people to visit friends, make new ones, catch up with acquaintances, and discuss current affairs.
Want to ride your bicycle to the market? We have bicycle parking available along Alvarado Street, but please do not ride through the market.
General Information
Rain or shine, year round on every Tuesday
Located on Alvarado Street between Del Monte and Pearl
Info line: 831-655-2607
Hours:
October through April: 4:00-7:00pm
May through September: 4:00-8:00pm
Vendors
If you wish to be a vendor at the Old Monterey Marketplace, please download a copy of the Old Monterey Farmers Market Vendor Application and State of California Vendor Certification Form below and return them both completed to the Old Monterey Business Association office at 98 Del Monte Ave, Suite 201, Monterey, CA 93940.
For information about Temporary Food Facility Requirements :
Monterey County Health Dept: Temporary Food Facility Information
Vendor Forms
Photos