Portola Hotel & Spa's Winter Wonderland
Daily from Dec 12 2019 to Dec 25 2019.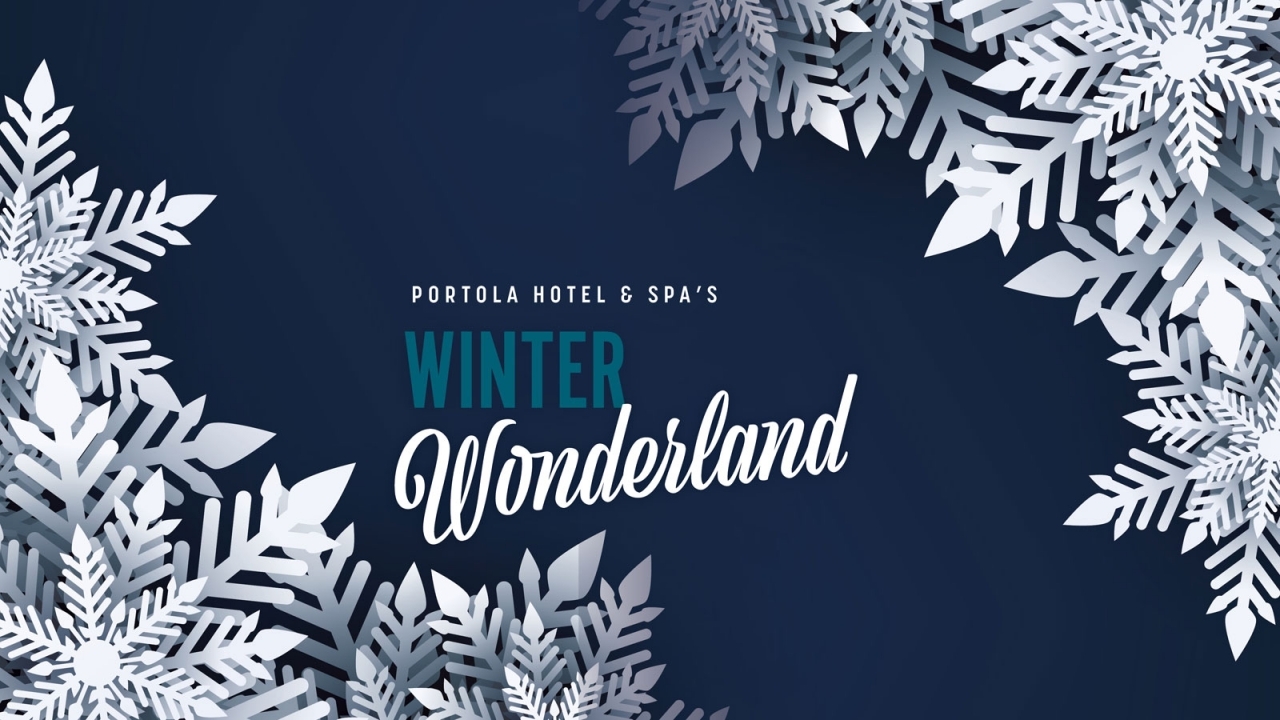 Portola Hotel & Spa invites you and your family to enjoy the magic of this holiday season with our Winter Wonderland, December 12-25, offering a variety of holiday treats, entertainment, activities, a visit from Santa, dining experiences, and more. Please see our complete event schedule below.
Portola Hotel has partnered with the Salvation Army and will provide barrels for food donations in the hotel lobby. The holiday season is a wonderful time for giving!
THURSDAY, DECEMBER 12 The Twelve Days of Christmas
4:30pm-6pm: Hosted Champagne along with Christmas Cookies in the Portola Hotel Lobby
5pm-6pm: Students from Stevenson School Choir caroling in the Portola Hotel Lobby
FRIDAY, DECEMBER 13 One Partridge in a Pear Tree
4:30pm-6pm: Hosted Champagne along with Mini Pear Pies in the Portola Hotel Lobby
5pm-6pm: Students from York School Choir caroling in the Portola Hotel Lobby
6pm: Tree Lighting in the Portola Hotel Lobby
SATURDAY, DECEMBER 14 Two Turtle Doves
11:30am-3pm: Santa and Mrs. Claus in the Portola Hotel Lobby
11:30am-3:30pm: Keepsake Hand Ornaments & Face Painting
Cookie Decorating & Christmas Coloring
4:30pm-6pm: Hosted Champagne along with Pecan Carmel Candies in the Portola Hotel Lobby
5:30pm-8:30pm: Jingle Jam live music with Taylor Rae and Jesse at Jacks Monterey
SUNDAY, DECEMBER 15 Three French Hens
11:30am-2:30pm: David Conley Piano and Vocals at Jacks Monterey's Sunday Brunch
11:30am-4pm: Santa and Mrs. Claus in the Portola Hotel lobby
11:30am to 3:30pm: Keepsake Hand Ornaments & Face Painting
Cookie Decorating & Christmas Coloring
4:30pm-6pm: Hosted Champagne along with French Hen Butter Cookie in the Portola Hotel Lobby
5:30pm-8:30pm: Jingle Jam live music with Taylor Rae and Jesse at Jacks Monterey
MONDAY, DECEMBER 16 Four Calling Birds
4:30pm to 6pm: Hosted Champagne along with Molasses Bird Nest Cookies in the Portola Hotel Lobby
TUESDAY, DECEMBER 17 Five Golden Rings
4:30pm to 6pm: Hosted Champagne along with Ginger Cookies in the Portola Hotel Lobby
5:30pm to 6pm: Students from San Carlos Choir caroling in the Portola Hotel Lobby
WEDNESDAY, DECEMBER 18 Six Geese a-Laying
4:30pm-6pm: Hosted Champagne along with Chocolate Caramel Eggs in the Portola Hotel Lobby
THURSDAY, DECEMBER 19 Seven Swans a-Swimming
4:30pm-6pm: Hosted Champagne along with French Meringue Cookies in the Portola Hotel Lobby
5:30pm to 6pm: Students from San Carlos Choir caroling in the Portola Hotel Lobby
FRIDAY, DECEMBER 20 Eight Maids a-Milking
4:30pm-6pm: Hosted Champagne along with Pot de Creme in the Portola Hotel Lobby
Entertainment to be announced
SATURDAY, DECEMBER 21 Nine Ladies Dancing
4:30pm-6pm: Hosted Champagne along with Sugar Cookies in the Portola Hotel Lobby
5pm-8pm: Live Music with Mike Morotta and International Trio in the Portola Hotel Lobby
SUNDAY, DECEMBER 22 Ten Lords a-Leaping
11:30am-2:30pm: Mike Morrota and the International Trio at Jacks Monterey's Sunday Brunch
4:30pm-6pm: Hosted Champagne along with Christmas Cookies in the Portola Hotel Lobby
5pm-8pm: Live Music with David Conley in the Portola Hotel Lobby
MONDAY, DECEMBER 23 Eleven Pipers Piping
4:30pm-6pm: Hosted Champagne along with Mini Yule Logs in the Portola Hotel Lobby
5pm-8pm: Live Music with Lisa Marie Bohn and Scott Slaughter in the Portola Hotel Lobby
TUESDAY, DECEMBER 24 Twelve Drummers Drumming
4:30pm-6pm: Hosted Champagne along with Drum Cupcakes in the Portola Hotel Lobby
5pm-8pm: Peninsula Harmony Company Trio caroling in the Portola Hotel Lobby
Jacks Monterey Christmas Eve Dinner Special - Monterey Bay Cioppino
WEDNESDAY, DECEMBER 25 Christmas at Portola
Three-Course Prix-Fixe Christmas Dinner at Jacks Monterey
Peter B's Brewpub Holiday Plate Special
Christmas Buffet at The Club Room, 1pm-7pm
Event Details
2 Portola Plz
Monterey, CA 93940