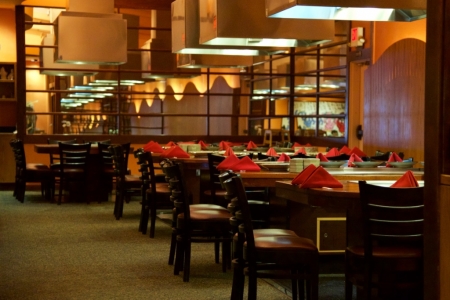 Benihana Monterey
Location
Hours
Monday, 4pm-8:30pm
Tuesday, closed
Wednesday - Sunday, 4pm-8:30pm
Benihana Monterey offers indoor dining.
At the heart of all Benihana Japanese restaurants is a devotion to bringing the highest-quality food and the best service to every guest. It's a tradition of quality that continues in all of our restaurants around the world. Serving steak, seafood, and sushi, our entertaining teppan chefs cook your meal right in front of your eyes!
Teppanyaki means, quite literally, "broiled on a steel grill," which is the definition of teppanyaki-style cooking in its most simple form. Teppanyaki has evolved greatly over the last hundred years, moving from food that was simply broiled on a steel grill to something of an art form. An art form Benihana first introduced to America in 1964. Today, teppanyaki chefs are performers as well as skilled cooks, delighting diners daily with mouthwatering flavors and jaw-dropping knife skills.