"Stop Making Sense: The Talking Heads" at Golden State Theatre
This event has already passed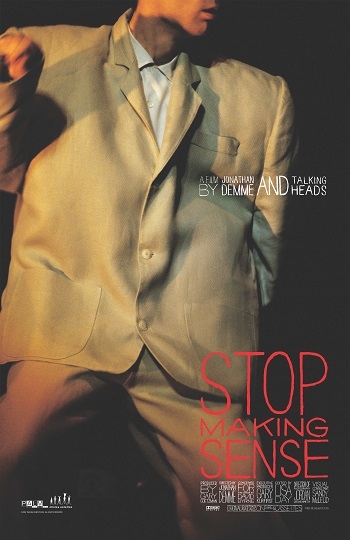 The Golden State Theatre presents a screening of the 1983 concert film by The Talking Heads, Stop Making Sense, on Saturday, April 20 at 8pm. Tickets are $19. For more information and to purchase tickets, please click here.
Stop Making Sense is director Jonathan Demme's remarkable concert film that captures the enormous energy and joyous highs of the Talking Heads' live performance. Band members David Byrne, Tina Weymouth, Chris Frantz and Jerry Harrison are joined by Bernie Worrell, Alex Weir, Steve Scales, Lynn Mabry and Edna Holt in this groundbreaking concert film that's packed with The Talking Heads' most memorable songs.
Shot over three concert performances in Los Angeles in December 1983, Demme's creative genius and the band's explosive energy is what makes this film an exhilarating and exciting event. Wall-to-wall music, beautiful cinematography, and Byrne's legendary "Big Suit" make this one of the greatest rock movies ever made.