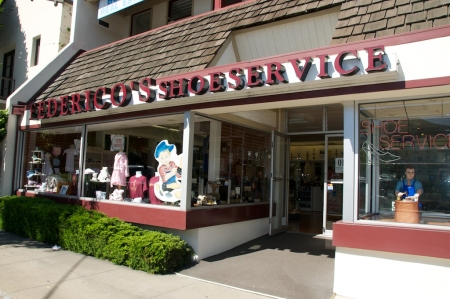 Federico's Shoe Service
Location
542 Abrego St
Monterey
,
CA
93940
831-649-3322
Hours
Monday - Friday: 8am-5:30pm
Founded in 1939, Federico's Shoe Service is a family-owned business passed from father to son, generation to generation. We offer shoe repair, luggage repair, leather repair, zipper repair, and dye work (dying luggage, handbags, and shoes to match the color of your garments).
Over the years, our work has won 29 top awards from the Shoe Service Institute of America (the national association for shoe repair professionals) in various categories.
Customer service is our top priority - our staff is here to serve you. There's a drive-up window for drop-off and pick-up which is great for families and people on the go, and we offer while-you-wait service for rush orders. Mail order service is available within the USA; please phone us for details.
We invite you to visit our shop! Free parking is available behind our building.
Location
Federico's Shoe Service
542 Abrego St
Monterey
,
CA
93940
831-649-3322